Hello fellow
JUMPers
like me,
This year is for sure a really memorable year for all Hey! Say! JUMP fans around the world, because it's their 10th anniversary. Because of this special event I want to make a small fanproject to celebrate 10 years of being a JUMP-fan since their debut in 2007. For this project, I needed to collect your opinion, as you know I have made a JUMP survey where I asked all JUMP fans for their 10 most fav. Hey Say JUMP songs of all time. That voting was running for more than 1 month. Now after I've evaluated all the votes I got, this is how the result turned out:
[
Fans Ultimate TOP 10 (2007-2016)
]
1st Super Delicate (2012), 139 Votes
2nd Give Me Love (2016), 111 Votes
3rd Ride With Me (2013), 101 Votes
4th Fantastic Time (2016), 87 Votes
5th Tada Mae E (2014) 81, Votes
6th Weekender (2014) 71, Votes
7th Beat Line (2011) 63, Votes
8th Asu e no YELL (2014), 60 Votes
9th Candle (2014), 59 Votes
10th Jumping Car (2015), 55 Votes
[
FANPROJECT - 10th anniversary!
]
So after having the ultimate top 10 JUMP songs now, I can finally tell you about my JUMP project for their 10th anniversary. Since these songs are voted and decided by fans, I'm happy to announce, that I'd like to open these Hey! Say! JUMP songs as collab projects in 2017. I want to cast singers for these songs and finish these collab projects in 2017 and until 2018 will start (I won't open other JUMP songs, only them, this year). As you can see on the list, there is a song also listed which I have already done a collab of it before, so this means that it's the first title track of this top 10 list which is already finished and for sure won't be opened as a collab project. All other songs are open and you can feel free to audition for your fav. songs you want to join to sing. ALL parts are currently OPEN and I also don't selfcast myself for a specific part in these JUMP collabs this time, but I will decide at the very end when I cast people, which part I will take. But I won't cast too many members for a song (9/10 members), because JUMP songs has less solo parts and it takes much longer to complete a collab when many people are in it. So I will open parts for as many as I think are suitable for the song, please check out the audition link which you can ONLY find through this post (the link is unlisted and only shared here) click the picture to get to the audition video: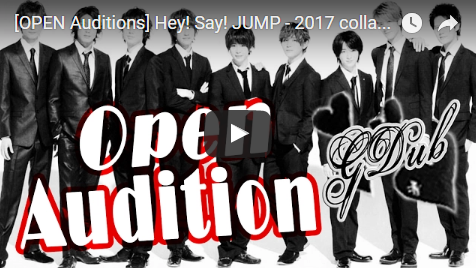 (IMPORTANT: Make sure to join my community first (even it's a open one), to be able to read the "Rules & FAQ" post. You'll get automatically accepted after you have clicked the JOIN button! Don't share & post about my community page/sites/links without asking me first. Thanks a lot!)
[
BONUS!
]
Soooo, hope that you will also read this part. Since I think that it would be a waste & pity to just only use 10 songs from the song voting list which actually consisted around 100 songs altogether, I want to tell you some good news. I have for sure planned this right at the moment when the voting was still going on, but I haven't told the people, because I really wanted them to passionate vote for their beloved fav. 10 songs. I want to take the TOP 35 songs from the end-voting results to cut a "Hey! Say! JUMP concert show". This would be a ultimate fan dream concert, because the concert only consists of songs which fans voted. To keep this more exciting I won't reveal the Top 35, its order and song titles. You only know the Top 10 of it right now. I can only reveal you that I will choose the best concert performance of each song (most fav. concert performances) to put in my concert video and I won't place the songs chronological based on their popularities (rankings). I choose 35 songs, because as you maybe know, JUMP is pretty well known for having long concerts (SMART etc.) and their "Summary 2012" concert setlist had the total of 35 songs, so I choose this as maximum number (included encore stages). Just to add, I need to wait for the DEAR concert DVD which will be released this year, because there are songs in the Top 35, which are from DEAR album. So I hope that Johnny's will reveal soon when it will be released.
That's all what I want to say for now. Thanks again for voting and dropping by!!! Hopefully you want to join my fanproject, too and I can't wait to create and share the BONUS file to everyone, once it will be ready :)
xoxo G from G-Dub!